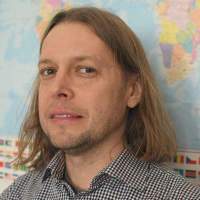 Ondřej Valenta, Ph.D.
Phone number: 00420 608 029 711
E-mail: ondre@email.cz
Main research interests: migration of highly qualified migrants, integration of migrants in Czechia
Book chapters (selection)
VALENTA, O. (2015): (Ne)využití lidského kapitálu Ukrajinců v Česku. In: Drbohlav, D. (ed.): Ukrajinská pracovní migrace v Česku: Migrace – Remitence – (Rozvoj). Karolinum, Praha, 161–182.
DRBOHLAV, D., VALENTA, O. (2014): Czechia: the Main Immigration Country in the V4. In: Eröss, A., Karácsonyi, D. (eds.): Discovering migration between Visegrad countries and Eastern Partners. HAC RCAES Geographical Institute, Budapest, 41–71.
VALENTA, O. (2012): Cizinci v Praze: prostorová koncentrace Slováků, Ukrajinců a Vietnamců. In: Ouředníček, M., Temelová, J. (eds.): Sociální proměny pražských čtvrtí. Academia, Praha, 92–115.
Monographs (selection)
Professional experience
from 2019 onwards – data expert at the Association for Integration and Migration

2007–2018

Technology Centre CAS

2001–2002 University of Helsinki, Finland
Current research projects
Teaching
Membership

Right now, from July 7 to July 9, 2021, the 18th IMISCOE Annual Conference is being held online. Several members of our team also participate in this prestigious events with the following contributions: Dušan Drbohlav and Dagmar Dzúrová: Social remittances and...
A new article by Ondřej Valenta and Dušan Drbohlav was published in Moravian Geographical Reports 4/2018. The article's title is Longitudinal and spatial perspectives on the mismatch of tertiary educated migrant workers in the Czech labour market: The case of...